Once Siela reaches Ostenlein, you'll be able to talk to the farmer right next to the entrance to ask him to grow seeds that you get from enemies or meat from traps that you can buy in the store at Ostenlein. After planting up to five seeds or traps, the produce will be delivered to Kamerina's Bar five days later.
Note: This is where you get the produced items from the Farm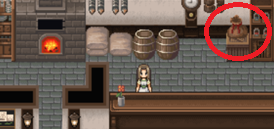 The contents of the produce depend on the type of seed planted and is random from a group of possible options. To get the desired produce, you can save before examining the contents of the delivery and reload until you get what you want.
In the case of traps, at the beginning you can only get Chicken, Pork, and Beef, but once you get Dragon Meat for the first time, it becomes a possible catch. Also, as you advance in the game the number of possible pieces increases.
List of Seed
Edit
Wheat Seed Edit
Ingredients Obtained
Name
Number of Ingredients
Wheat
5~10 pieces
Herb
3~6 pieces
Sugar
5~10 pieces
Corn
4~5 pieces
Bean
4~8 pieces
Veggie Seed Edit
Ingredients Obtained
Name
Number of Ingredients
Cabbage
3~6 pieces
Lettuce
2~5 pieces
Napa
2~5 pieces
Cucumber
2~5 pieces
Green Pepper
4~5 pieces
Fruit Seed Edit
Ingredients Obtained
Name
Number of Ingredients
Peach
3~6 pieces
Melon
1~4 pieces
Cherry
2~5 pieces
Strawberry
2~5 pieces
Grape
3~5 pieces
Mush Seed Edit
Ingredients Obtained
Name
Number of Ingredients
Mushroom
1~9 pieces
Pineshroom
1~5 pieces
Sour Seed Edit
Ingredients Obtained
Name
Number of Ingredients
Plum
4~8 pieces
Green Pepper
2~5 pieces
Lemon
3~5 pieces
Orange
5~6 pieces
Beast Trap Edit
Ingredients Obtained
Name
Number of Ingredients
Chicken
1~3 (initial values)
Pork
1~2 (initial values)
Beef
1~2 (initial values)
Dragon Meat
1~8 (after finding Dragon Meat for the first time elsewhere)
Rotten Seed Edit
Ingredients Obtained
Name
Number of Ingredients
Bean
1~3 pieces
Melon
3~8 pieces
Pineshroom
3~7 pieces
Plum
1~3 pieces
Golden Seed Edit
Ingredients Obtained
Name
Number of Ingredients
Pineapple
5~8 pieces
Apple
2~4 pieces
Cactus
4~8 pieces
Garlic
2~5 pieces
Banana
4~6 pieces
Dry Seed Edit
Ingredients Obtained
Name
Number of Ingredients
Cacao
5~8 pieces
Carrot
8~10 pieces
Cactus
5~8 pieces
Cherry
8~10 pieces
Melon
5~8 pieces
Mandrake Edit
Ingredients Obtained
Name
Number of Ingredients
Carrot
10~15 pieces
Pineshroom
5~7 pieces
Blackshroom
5~8 pieces
Ancient Seed Edit
Ingredients Obtained
Name
Number of Ingredients
Banana
10~20 pieces
Pineapple
10 ~ 18 pieces
Blackshroom
20 ~ 20 pieces